The video makes business communication a lot easier. It optimizes teamwork and widens and improves the "culture" of your products and services. Nowadays, we are seeing a great increase in the use of corporate and event video production on the Internet and TV. That represents a powerful transforming strength in the business world.
Having event video production can be a perfect selling tool!
With on-location filming such as green screen event production, conference production, you can showcase all advantages of your company. Let people know about the technology you use, tell your story, or generate trust through interviews with your best clients. 
The benefits of having corporate video production·      
It gives a real image of your company. As a result, clients prefer seeing things with their own eyes, rather than reading or looking at a presentation or picture. You can improve your company's image with corporate video production.
·       It conveys closeness. A corporate video can create an emotional bond between the potential client and the brand, product or service.
·       Helps to promote your business from any place. Your clients, partners and colleagues could see the infrastructure of your company from any device, in any country. It's as if they were there with you at the event thanks to on-location filming and event video streaming services.
·      More visibility. Therefore, your company would be better positioned in search engines, so it will stand out next to your competition. And audiovisual content appeals stronger and faster to any person than textual content. 
·       Generates trust. Clients will trust your product or service after they get to know your company and your employees better. That will increase your chances in business development and the generation of new trusting clients.
·       Boost sales. This is the ultimate result of all the benefits above combined. Event video production could boost your image to a point where clients just come to you. Event video production will transport your company from the paper all the way to the screen!
Green screen Production in Florida
Add a professional touch to your event, immortalize it by hiring an Orlando corporate video production company when great moments are happening. Let Orlando green screen production experts capture the best moments of your convention. In conclusion, you will have an extremely professional piece that you can use to promote your company afterward. Show your audience you take pride in what you do!
Plus, let's be honest, an event video production crew always makes things feel very important.

On-location B-roll Footage coverage
If you need an event or corporate video production services in Orlando. Our crew members are ready to deliver valuable b-roll footage of your conference, exhibition, trade show, corporate parties, conventions, festivals. Basically, of any other event that requires high-quality b-roll footage production. Your event could take place at the Orlando Convention Center, Downtown Orlando, theme parks like Disney or Universal, Tampa, Saint Petersburg, Jacksonville. It doesn't matter where in the Central Florida area, our team will be happy to meet your on-location filming needs.
Our promise is to deliver an event video that you can keep under the belt as an asset for promotion, broadcasting or even corporate goals. SEE OUR EVENT VIDEOS HERE
---
AD.JUST – Event Video Production Orlando | Tampa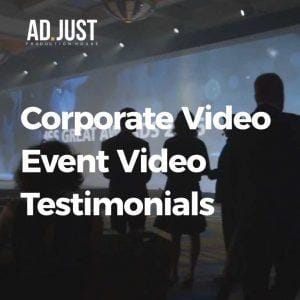 Focusing on Corporate video production, best quality Event Videos, B-roll footage, testimonials, and event green screen production – we have the crew, the tools, the skills, and the experience to take your business to the next level.  AD.JUST video production services for businesses will add value to any brand.
With over 10 years of experience in the field, we also provide other types of marketing video production in Orlando. Commercial video production, Kickstarter videos, Amazon Product Video creation – is what we do the best!
CONTACT US for the video production quote