A product video is the one that explains tangible, useful, and concrete information about a product, what it is, and how it is used. Product videography is a very essential component of a solid marketing system. Your marketing strategy is incomplete without effective product video services.
Product demo videos are popularly used by sellers on Amazon, eBay, Shopify, and other eCommerce websites. Product Videos on Amazon tend to engage the audience and pass a lot of information. If you sell products on Amazon, eBay, Shopify or you own an eCommerce website, you must be wondering how to create an effective product video.
A marketing video or an instructional video?
There has been a gross misconception among many Amazon sellers when it comes to video marketing. Many believe that there are two different types of videos and that a marketing video is different from instructional video. Cleary, all product videos are marketing videos no matter how instructional they are. However, not every marketing video is instructional.
People are becoming less and less intolerant and indifferent towards video adverts these days. Unlike banner and text ads that pop up whenever a user clicks a page, videos require the user's attention for the few minutes of the display. This makes it easier for users to ignore the video advert especially a few seconds after ads start playing. One major factor that contributes to the low effectiveness of product videos is the manner and way the video is structured.
How Can You Create an Effective Product Video for Amazon?
In the sections below, we shall consider a step-by-step guide on how to create an education-based product video that will serve as an effective marketing tool for Amazon, eBay, Shopify, etc.
Step 1: Introduction
First, you need to assure your audience that the video will address various issues on their minds and pass a relative value to them. If you don't assure your audience right from the first few seconds of the video, you risk losing out most of them in the very first minutes of the video. If your product video is delivered in a slide that allows you to enter chapters, then you don't need to worry as viewers can easily scan through the chapters covered. Otherwise, it is a good idea to include a brief description of the chapters covered and tell them what to expect.
You can do this in the first minute of the video itself or as a caption.
Once you have introduced your video in this way, the next is stage is "how to approach and structure the video itself". Remember, you are producing an educational marketing piece that will pass quality information to the consumer while also helping you to communicate the value of your business and/or promote your brand.
Step 2: Structure and Organization
Indeed, you will need to organize your video into distinct parts and chapters so that viewers can assess any of them based on what they want at that particular time. You will agree that your audience has a different level of exposure and awareness about your product or company. While some of them are well aware of your brand, some are just hearing your name for the first time. Thus, each category of audience needs to be fed with different kinds of information or instruction.
Having different sections, chapters, and phases in your product video production can help you to address this.
Divide your education-based video into different specific segments based on your chapters or aspects you want to cover. You can leave the video as a single continuous piece if that's your only option.
[envira-gallery id='64626′]
Step 3: Introduce your product/brand
The next step, after introducing your video and its chapters, is to introduce your product/brand. So, start with a short overview of what you do and make sure you communicate how and why use your product. As much as possible try and abstain from trying "to sell your product" but rather emphasize on what value your product can add to the audience. Make sure your message is short, clear, and comprehensive enough.
Step 4: state the features of your product and what makes it different
Here is a chance for you to highlight those amazing features of your product and how they differ from others. If you are making product video for Amazon, eBay or other eCommerce websites, make sure you have previous research negative feedbacks from your competitors and use them to your advantage. Remember, you are not comparing your product with another but simply stating those features that made it unique.
A great way to do this is to demonstrate by showing the main parts of your product and its functions. As you do this, you should keep your viewers fantasizing about how they will use your product to solve their day-to-day activities. At this stage, you are already explaining what the product is just like an average storekeeper or salesperson will do. At this stage, your audience is more interested and curious about certain other things.
Produced by AD.JUST PRODUCTION, Los Angeles, 2019.
Step 5: Demonstration
The next and major part of your product videography is the demonstration part. Here, you are going to demonstrate how your product works and how your customers can use them to solve their various problems. From a marketing perspective, this is the chance to provide customers with demonstrative validation, show that your product is easy to use, prove that the product does what it promises to do and that your customers can follow your instructions for easy usage of the product. 
This section is purely not a commercial but an educational/instructional phase. You should strive to provide as much information as possible as your customers may want to check the video once again after purchasing your product. This can help to prevent unnecessary product returns and/or negative feedback. The more detail you can provide, the better it is.
Produced by AD.JUST PRODUCTION, Los Angeles, 2019.
Step 6: Offer Additional Video
Of course, not every product can be explained in a few minutes of video. In this case, you can offer additional instructions in another video to help your customers solve certain other problems with your product. This kind of customer support will further reassure your audience of unmetered support while they use your product.
Take a look at other top leading brands like Apple Inc. that offer extra free classes for users who are not familiar with computers to get started and learn to use the Apple iPhone, iPad, and Mac devices.
Produced by AD.JUST PRODUCTION, Los Angeles, 2019.
Summary
There is no end to effective product video production. You need to constantly review your videos and make necessary adjustments as events demand. However, to successfully create an education-based product video for Amazon, eBay, and other eCommerce websites, you need to pay attention to the following.
Tell your audience from the start what you intend to cover in your video and the kind of information they can expect. It is okay if you cannot cover all the aspects of your website but be realistic and don't promise what you cannot deliver.
Although you may not be able to cover all aspects of your product, make sure you deliver all key issues that your audience might have about your product. You should strive to use your product demo video to answer questions like;

What is the product all about? Who can use it? How can I use it? Why should I use it? (Value proposition

What are the key features of your product? What are the functions and uses of your product? And what are the available options in terms of sizes, colors, materials, etc? (Differences and features)
How can I use this product? What are the steps? Is it easy to use? (Demonstrative validation)

Patiently explain these elements to your audience and cover them in detail. Remember, this is product videography and not just a commercial. These elements can be communicated in a few seconds of commercials but it doesn't make the commercial a good product video for Amazon. A commercial is designed mainly to entice customers to place an order. However, an effective product video on Amazon is designed to help you establish a relationship with your audience and earn their trust through careful explanation and demonstration of your product.
Take it slow and be more conversational. Remember, you are telling your audience things and not selling your things. Your goal for the product video services is to earn your customers' trust while sales flow naturally.
Get rid of those excess graphics, animations, and distortions. Remove any part of the video that doesn't add any real value to the video. This will even save you some bucks!
Sit back and watch your product demo video. If it sounds like a commercial, looks like a commercial or feels like a commercial, then it is a commercial. There is no doubt about that. Of course, it is very hard not to make a product video for Amazon to look like a commercial because we are already so familiar with commercials. However, there is still a very great chance that you can create excellent product videography from the steps highlighted above.
---
Contact us for E-commerce Product Videography in Los Angeles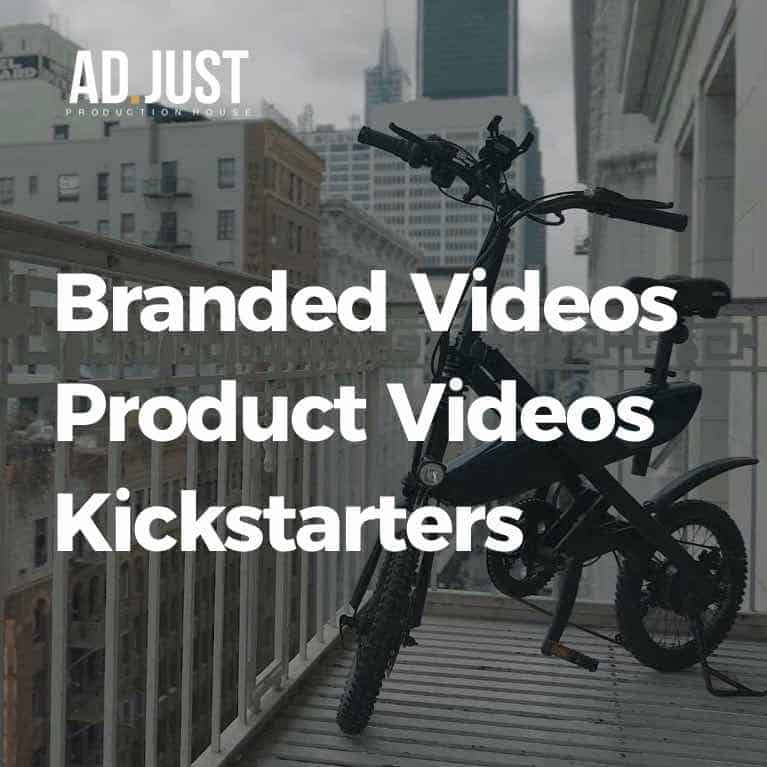 Adjust Production is leading e-commerce product videography and photography marketing agency in Los Angeles.
Having existed for over ten years, we have worked with several individuals, businesses, firms, and organizations. If you need a professional Product Videography in Los Angeles, contact us today!