video production costs and Quote
Video Production Costs
With one of the most competitive video production costs AD.JUST will adapt to your budget and provide you with high-quality team. On this page, you can obtain Video Production Rate Card, check our Videographer rates, and request custom quote for video to lock down your video production prices!
The demand for a professional video makers team is high, as well as a risk to fail the project due to lack of  film crew expertise. Therefore, we want to make you sure we can engage high-class specialists of any kind for a successful production.
Videographers Daily Rates for Events and B-roll footage
Video production Rate card for Events in Los Angeles, Las Vegas, San Diego. Videography rate includes Camera + Videographers price per day for footage producing only (not including post-production, insurance fees, travel expenses).
* Video production rate card doesn't include editing, for full-service video production prices, video editing pricing contact us by e-mail.
Custom Video Quote
We will be happy to answer all types of custom video quote besides day rate videographer prices
Our team is ready to provide you with promotional, commercial, and event videography rates and custom video production costs based on your budget and meet your expectations!
How to get a video quote with production costs breakdown:
Describe the type of video and be as more specific as you can. For example, Commercial, Product, Kickstarter, Event or Corporate, etc.
Suggest the video duration. For the commercial, the common length is 15 sec, 30 sec, 90 sec, up to 3 mins.
Describe a brief idea if you have or send us the script.
Mention the deadlines if it's urgent.
Tell us about your the budget limitations or range. It's a very important as we might offer a

quote for video production

with a better solution based on your abilities.
Gear and Vehicles Specialties
Executive Crew Van for Hire
A new multifunctional production van Mercedes-Benz Metris available in Los Angeles for small film crews.
Think of our van as a mobile editing station with the ability to be a one place transportation for all your crew and gear. It can also be used as an executive producer or client vehicle, and even transform it into a make-up mobile set, you name it! It can do it all.
Grip & Lighting Truck
Mercedes Sprinter Vans are well-known workhorses of film industry. This bad boy carries up to 2 Tons of grip and lighting gear. Stuffed with newest and advanced tools from popular and established brands like Arri, Astera, Matthews, Litegear. While its moderate size is ideal for multiple locations in run-n-gun style, it well-arranged inner space makes it powerful enough for up to a feature film production.
Red Epic-W, 8K & Steadicam
Resolution Matters. Digital Cinema camera RED-Epic-W with HELIUM 8K S35 sensor allows our DP to shoot footage up to 8K suitable for cinema and TV screening. With such equipment we can provide the footage quality of 4,6 and 8K to any of our clients. 
Paired with Steadicam this camera can create cinema style and quality motion picture of any object or person in the frame.
Video Crew for Hire
Every project is unique and we come up with a custom selection of video-making professionals to secure an ideal film crew headcount. Check the list of the most requested videographers and other specialists and and what can affect videographer rate. Day rates for videographers are highly depending on overall videographer experience and skill set, his gear kit and number and sometimes the lenght of the shift.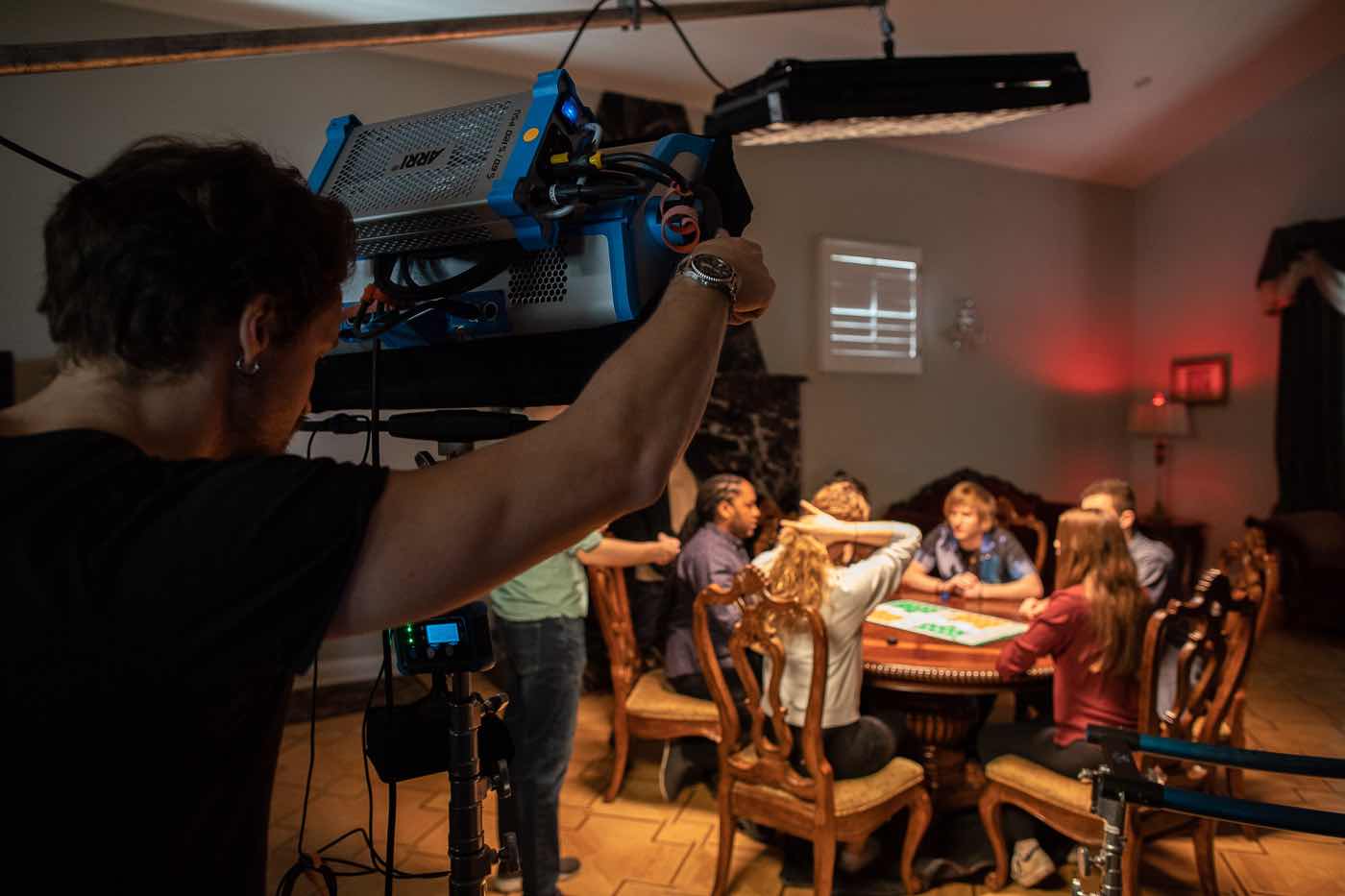 The DP works with the director on bringing the image, style, and message to communicate to the audience. DPs are in charge of all lighting decisions and the tone of the light. They provide directions on angles and shots, choice of lens, and movement. DPs will also provide input on which equipment to use, depending on many factors. Most DPs will prefer different approaches depending on the type of production, commercials on set and documentary on location require different gear. These specific videographers prices depend on how professional this person is and what gear is he using.
CAMERA ASSISTANT
Low-budget productions will have an assistant, or "1st AC," before having a professional videographer. ACs are responsible for helping the DP with focusing, get the right lens for the shot, also making sure any batteries, media cards are ready for the next frame or scene. They're typically tasked with building the rig for videographer at the start of the filming day and making sure nothing was left on the set at the end.
CAMERA OPERATOR
On smaller productions, the DP can also be an actual videographer. However, on bigger productions, this task is often given to a camera operator who can help run the footage production smoothly and increase film crew efficiency.
GAFFER
Gaffers work with DP to help shape the light right. Basically, gaffers are responsible for all lighting and will place filters on lights to control their tone, color, and intensity. Gaffers usually manage the grips and electricians on set and usually work their way up to being DPs.
GRIP
The grips are responsible for building and rigging lighting, dolly tracks and other lighting accessories. The key grip is in charge of other grips and reports to the gaffer. It's normal to have the same person handling both the gripping and the gaffing.
ELECTRICIAN/ BEST BOY
The electricians handle getting electrical power for the lights or generators if the filming is outdoors. Electrician team should run distribution boxes strategically so that they're safe and out of the way from other video crew members.
DIT
The DIT is responsible for transferring the footage on the cards to HDDs or laptops. DITs have to work fast and perform quality control checks during the  process to be sure nothing's lost. On lower budget projects, Project Assistant is in charge of this task.
PRODUCTION ASSISTANT
The PA serves as an important position to ensure production is occurring in a timely manner and meets the strict quality metrics outlined in the brand identity guide.  On smaller productions, PA becomes a crucial position providing help in almost all aspects: setting up audio and video equipment, microphones, sound speakers, screens, projectors, recording equipment, connecting wires and cables.
SOUND GUY/BOOM OPERATOR
This person is responsible for correct positioning of the microphone boom pole during the filming. The boom operator is the assistant to the sound mixer. He also must be able to follow the actor's movements while staying out of the frame and lights. This makes it a challenging job for accomplishing the best possible audio.
SOUND MIXER
The audio operator take all the audio inputs generated by the filming process and record them to flash media cards. He/she decides which microphones to use as well as placements of the microphones. The experienced audio engineer will make sure that all audio is recording smoothly, securing much more flexibility in further post-production.