Event Video Production at Your Corporate Event, Conference, Trade Show
Today in the AD.Just Production blog we want to talk to you about corporate event video production and what we've learned in our experience making event coverage video production.
What's a corporate event video?
A corporate event video is an audiovisual piece that narrates what a past event, conference, or meeting was about.
What's the purpose of event videography?
Any event has to be remembered by its attendees as the company has made an investment that can still be seized after the corporate event is over. In fact, you can send your corporate event video to the attendees as a present.
Above it all, a corporate event video production is great to have a memory of the event and spread a good image about the company or institution.
What makes a good event video production?
Make sure your video crew uses professional event video production equipment to obtain the maximum image quality. That way, the camera won't miss a detail. Once finalized event, the corporate event video must be edited. Making a long version and a short version that will be more useful for online distribution. It has to convey the experience that the attendees had at your event and give the best brand image possible.
AD.Just production is an event video production company specializing in corporate events, conferences, conventions, corporate parties, and more. We provide the live event video production equipment your event needs while we adapt to your budget and expectations.
On-location filming, On-site Video Editing
Our on-location filming crew will make a professional recording of everything that happens during your event. That includes on-location interviews with the main members of the event. With our on-site video editing service, our crew will deliver an appealing corporate event video that sums up your event.
Whenever a company, a city, or an institution is putting together a big event not everyone can go, and many times, it would be fantastic to count on an event video production company that can produce an audiovisual piece that captures the essence of what happened, taking you back to the moment when you celebrated this event.
Trust a professional event video production company like AD.Just to produce high-quality event video for all types of events:
Cultural events
Industry trade shows
Conferences and talks
Conventions
Festivals and concerts
Meetups
---
AD.JUST – Event Video Production, Los Angels | Orlando | Tampa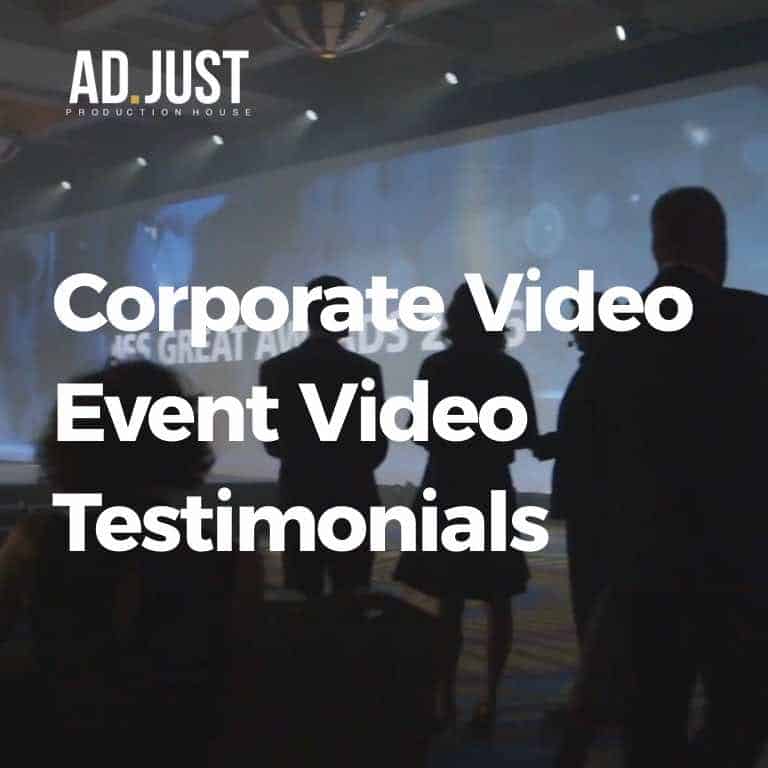 Focusing on Corporate video production, best quality Event Videos, B-roll footage, testimonials, and event green screen production – we have the crew, the tools, the skills, and the experience to take your business to the next level. AD.JUST video production services for businesses will add value to any brand.
With over 10 years of experience in the field, we also provide other types of marketing video production. Commercial video production, Kickstarter videos, Amazon Product Video creation – is what we do the best!
CONTACT US for video production rates: getquote@adjustproduction.com